A Private cloud is a cloud deployment model operated solely for a single organisation which is hosted and managed either internally or by a third party. It is also known as the internal or corporate cloud. It affords many benefits of Public Cloud including additional control and customization available from dedicated resources over a computing infrastructure hosted on-premises.
Private clouds are the internet-based platforms allowing the clients or organisations to share computing devices, information, and resources on demand. It means allocating resources and scaling up the entire system based on organisation's/client's needs.
An organisation can build a private cloud on their own using resources dedicated solely to them or use a prepackaged cloud infrastructure from a third party. It can either be deployed on existing infrastructure/data center or new infrastructure.
Companies investing in private cloud obtains access to the hypervisor, their own host hardware, RAM, storage and networking which can not be shared among other users.
For IT leaders, private clouds are the absolute solutions for making enterprise resources available on-demand compare to the public cloud. This is because of security policies, budgets, compliance requirements, and regulations.
Major Players in Private Cloud.
Microsoft Cloud
IBM Bluemix Cloud
SAP HANA Platform
Amazon Virtual Private Cloud
Google Cloud Virtual Network
CISCO
HP Helion
VMware
Oracle
Features of Private cloud
Multi-tenancy – Multi-tenancy is one of the key features of private cloud platforms. It provides the ability to support multiple users such as offices, individuals, divisions and the storage is shared to capitalise on economies of scale. Each and every user can use cloud services without being aware of the activities performed by others.
Elasticity – Elasticity plays a crucial role in scaling up or down the clients' requirements that means providing infinite capacity on demand.
Metered consumption – Private cloud allows users to pay for the use with no commitment. It has metering software to track the utilisation of software and hardware resources.
Powerful API – Private cloud platforms promote a powerful application programming interface (API) making it possible to configure resources automatically on demand. This saves clients time by cutting down manual maintenance.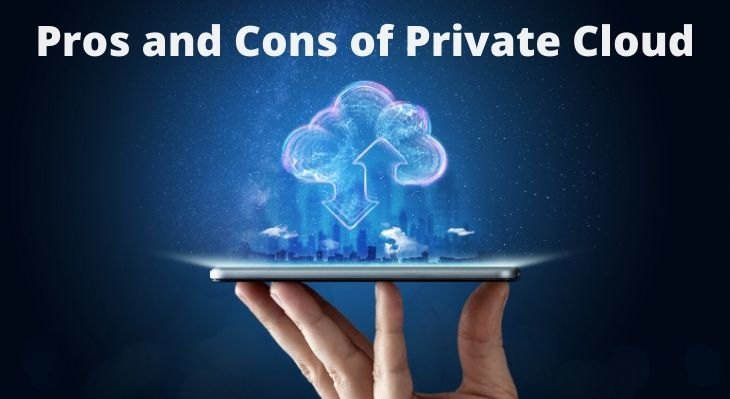 Advantages
Improved Reliability – Private clouds offer a greater degree of reliability compared to its alternatives like a public cloud because of the redundant architecture which prohibits sharing with others.
Enhanced security – Improved security is another benefit of private cloud service. Any cloud platform requires robust anti-virus and firewall protection, and private cloud runs on certain physical machines ensuring high security. Also, the private cloud offers a private and secure network link to access which makes cloud access more secure.
Improved Flexibility – Private cloud improves flexibility through virtualisation which means enabling multiple applications and operating systems to operate on the same machines. Any changes in the resource requirements meet by adjusting the concerned virtual server.
Improved performance – The flexibility and improved resource utilisation help the user or clients to ensure better performance.
Efficiency and control – Private cloud allows its users to build and configure their private cloud in a way they want. Users are free to use any operating systems, applications, and allocate resources based on their requirements. This enhances efficiency and provides full control to the users.
Disadvantages
Cost – Private cloud model is more expensive than the public cloud. Building on-premise private cloud stretches you to a large capital outlay. But renting a private cloud from a hosting service provider adds benefits to users on the cost side.
Under-utilisation – In a private cloud, the cost of capacity under-utilisation is the cost to users instead of providers. So, maximising and minimising utilisation becomes a great concern.
Maintenance – Private cloud set-up and support is more expensive and time-consuming, and needs continuous maintenance. A separate in-house IT administration sets up for its maintenance.
The Last Corner
Both public and private cloud configurations are almost capable of the same thing. But private cloud because of its higher security and reliability gets an added advantage and becomes ideal for organisations with a sensitive and critical workload. Specific requirements like data migration which becomes difficult and expensive to store in hardware these days need virtual storage capacity ensuring high security for which private cloud platform is apt.